Why start in February, especially in the north and heading south? After all, the north of Scotland has
an impressively northern latitude. No matter that the gulfstream considerably moderates British weather. For even so, the north of Scotland can freeze the anatomy off a brass monkey and can surely do the same to a wet, aging Florida hiker.
There are several reasons for this early start - none of which make much hiking sense. But they do make sense for other reasons. For starters, my wife Jennifer is a teacher - and I'll be gone in term-time and back home to enjoy the summer break with her - and to shoulder the potential challenges of Florida's hurricane season. Also, accommodation on the hike will be easier to find, and less expensive for this reason alone; I can't manage the extra weight of the gear that would allow me to camp when indoor accommodation is full. Accommodation is also less expensive earlier in the year, a factor that a "dollar-denominated" hiker finds quite persuasive over three months of relentless shelling out.
Another expense-related matter is that I have just enough frequent-flyer award miles to pay for air travel if it is completed by May 15, when the ticket is no longer valid.
Then, finally, I have a certain time window to apply for Medicare, on which I must be enrolled in July, since I turn 65 in August. If my hike ran between May and July, I have a suspicion that I'd have to head for the American Embassy in London during the hike, taking three days to get there and back and to line up for a smooth wire-brushing by officialdom, starting with "You'll need to get the right forms completed, and then we can notarize your signature", and going on to "No, we don't have those forms here."
Hikers, as a breed, like to avoid officialdom, unless it takes the unlikely form of a free, cold beer at the end of a harsh climb on a sunny day. That, at least, would be a social program I could support.
After analyzing all this with the logic you see above, I reached the illogical decision to depart Tampa on February 4. After all, I'm an engineer and you'd expect logic like this.
In any case, I'd studied the thermal conductivity of brass monkeys exposed to gulfstream-moderated Scottish winters. And I came to the conclusion that there are no parts of the human anatomy that can't be protected from the weather by an hour a day beside the roaring fire of a Scottish pub - even if officialdom taxes the heck out of the beer.
Soon I got my faithful North Face Skareb 55 backpack prepared. This meant test-loading it to see if everything was coming together as it should. It took a load off my mind to do this, placing it instead upon my shoulders where it belonged. I'd been worried that I'd accumulated more than I could fit in, adding weight in the process. It looked like the pack weight would be about the same as last time, around 20 lb, even though I'd been pretty conscientious with my cold-weather and rain gear considering the time of year.

I replaced last year's bellypack, though, with a bigger one. Inside, I built an "egg-crate" styled cardboard structure which allows me to drop various bits of my electronic gear into separate compartments, with the gear facing up. Last year my bellypack contained a tumbled assortment of this stuff, making grabbing any one item hard when it was covered by the others.
All-in-all, the bellypack carries: two Personal Digital Assistants (PDAs), a phone, a camera and mini-tripod, sunglasses, pen and small pad to write on, and any medicines needed during the day.
The cardboard structure that holds this stuff fits inside a nylon bag in the bellypack, and that nylon bag fits in another one. For rain protection, I just roll-up the nylon bags inside the bellypack. The weight of the loaded bellypack is about the same as last year, about 3 lb.
My total to-carry weight was about 24 lb not including water and food.
My new boots were by Alpine Design, a name which Sports Authority, a chain of sporting goods stores, has started to put on some of its stuff. These boots don't yet have a track record, so to speak, since I could only find one review on them. But I thought the store brand guaranteed a minimum quality. I gravitated to these boots after having a quite good (but not brilliant) experience with my Hi-Tec V-Lite hiking boots last year; their heels wore out in a few hundred miles but were repairable on the hike. Having said that, I might have bought them again, but they weren't in stock, and the hiking boot selection (type and size) was so limited in Florida that there wasn't another real hiking boot in my size besides the Alpine Design one. I decided not to buy online or by mail order because I feared a protracted shipping-and-sending-back experience.
While the Alpine Design boots seemed comfortable, waterproof, fairly light, well-featured (double-stitching, thick sole) and were inexpensive, they're leather - not my first choice at all. I wore them for 20 or 30 miles over a couple of weeks, found them reasonable, coated them with mink oil, and thought I'd made a reasonable choice. As you'll see later, things turned out differently.
I got out and checked my hiking pole, and packed two spare boots for it in my "toolbox", which is actually a plastic bag that contains things like string, sewing kit, spare shoelaces, mini-flashlight, whistle, back-up compass (my watch incorporates a compass), the aforementioned mink oil, and water-purification tablets that I hoped I wouldn't need. I thought that I'd probably shed some of this stuff enroute because Hobson is a hiker who feels every ounce of weight, but in fact I shed very little.
With a week or so to go, I decided to switch from a daily shower to a daily bath. Thinking back to last year, I remembered B&B showers with their paltry water flow, unstable temperatures . . . and sometimes their all-too-short timers. Plus 2 sq ft towels. There is not much a hiker deserves more at the end of a strenuous day than a hot bath and a 10 sq ft towel - and there are few to be had on a hike. Looking at my bath at home, I suddenly had "bath-withdrawal symptoms". So I decided to "stock up", so to speak - a futile mind-game that nevertheless made me feel grateful for home comforts.
Next, I
finalized all paper matters, and the contents of my PDA memory cards. That meant no more changes to them while at home. Then I packed my few papers, and brought all the electronics together at a single location, ready to be loaded into my pack when I departed. This also helped me ensure that I had all the adaptors I needed for the various chargers. The PDAs hold my electronic maps, my journal and most other things you'd normally commit to paper, and they back each other up in case of failure. One PDA has GPS and wifi capability, and the other is a phone which supposedly connects to the Internet, though that needs verification with a British SIM card and service. I also have a second phone, because I don't want to leave the PDAs on all the time and drain their batteries. And I have one camera with its charger. The four chargers (for the two PDAs, the single-purpose phone, and the camera) fortunately accept 220 volts as well as 110 volts. Three of them have U.S. plugs and only one has a British one (for which I have a British-to-U.S. adaptor). I plug all four into an American extension cord that I plug into a U.S.-to-British adaptor and into a wall outlet. Needing only one wall outlet is a convenience, though sometimes it still means moving furniture and unplugging a room lamp.
There's one little naughty act in all this, which is using the American 110-volt extension cord on a 220-volt supply. However, and please don't do it yourself, I've verified that it will handle 220 volts without shorting, and without heating under what is a light electrical load.
Except for a small flashlight, I wasn't carrying anything else that required electricity - no shaver, no hair trimmer, no back-up GPS or camera, and no radio.
One week to go!
Self-talk about self-walk
Throughout my preparations, I tried to nudge myself towards a different philosophy for this walk compared with the last one. It's quality, not quantity, that mattered. My northbound hike took 56 days, which was enormously challenging for me, as it might have challenged younger folks also. You could say I was "driven". I hardly stopped to smell the daffodils or primroses. When I got home, I learned that I'd given myself a "very large" hernia, which needed an operation. (I'm hoping that I caused the hernia by falling on my hiking pole, an act of overbalancing when getting up with my pack on, and not a subconscious act of hiker-kamikaze equivalent to falling on one's sword. If, instead, it was caused by bodily wear-and-tear, I fear my goose is cooked as far as successfully walking south.)
Having done the hike northbound, I told myself I had nothing to prove to do it southbound. So I ought to take it easier. My mind said that. My wife said that. My friends told me the whole thing was lunacy. My body agreed. In fact, my body felt more than a year older than this time last year - partly because my right knee and ankle were causing me to limp before I'd even left home.
So I told myself that it really didn't matter if I took 30 days to reach just Fort William - a prophetic thought as it turned out, for it took exactly that time.
I wondered
whether I was capable of breaking from my old single-mindedness - in a way that still left me motivated enough to finish. As events unfolded, it became clear that the old dog couldn't learn new tricks.
.
My friendly meteorologists
Tampa weather is perfect in February. The oppressively hot and humid days of summer are common into October, and occasionally smite you in November and December, but by January and February they are gone. A typical January-February day is 75 degF (24 degC), Tampa Bay is like glass, and you might see a dolphin swimming up our canal with nary a breeze under the bluest of skies.
But apparently Scotland is not that welcoming - according to most of my friends. Dave and Sylvia H of Leicester admired my fortitude in the cold, John Tippetts of Sheffield warned me about the short days and cold and suggested that April would be nice. Peter and Angela P, and cousins Ivor and Elise S, invited me to stay with them to "recover". Geoff G of Oxfordshire expressed things quite directly: "You're utterly mad, of course." Steve B of Champaign, Illinois observed the totally crappy weather in Chicago on the day I was changing planes there, and thought, "What a nut", making sure to tell me so in a note.
My five Tampa lunch friends said words like "lunacy" and used the weather to back that up (not that they actually needed a reason). Andy P of Virginia said I was "a crazy b-----", using a word no longer in fashion.
With friends like these, I expected a tube of Polar Bear brand "Save Your Fingers" frostbite ointment to arrive anonymously in the mail as a parting gift.

Am I contemptuous of all this input? Well, yes and no. I can feel a little smug thinking of these folks eating Oreo cookies in front of the television all winter, while Hobson the hiker strides his way to fitness over distant horizons. But, actually, the weather is not quite what they think.

From an American perspective, here are the facts. Because of the gulfstream that I mentioned earlier, Scotland is nowhere near as cold as its latitude might suggest. (The latitude up north is about the same as the center of Hudson Bay, Anchorage, Bergen and St. Petersburg.)

In winter, northern Scotland is like Virginia (which is 25 deg of latitude further south), or the Pacific Northwest. While 15 deg of latitude north of Montreal, it's approximately 15 degF (8 degC) warmer. For a similar reason, Iceland can advertise that its winter temperatures are warmer than New York City's. True, February highs will be around 40 degF (4 degC), and lows about freezing. But that's not that cold. My worries concerned rain and lots of wind off the North Sea, and the short days made shorter by overcast - and the traffic in these conditions.
Of course, it was tempting fate to speak like this. As it turned out, I was right about the weather facts but underestimated their meaning. While the cold did not worry me unduly, the wind and particularly the rain . . . did. Having said that, when I came home I read the account of

two vicars

hiking south from John o' Groats in mid-April, when even this late in the year they were greeted by swirling snow. And Carol Pollock, encountered icy rain and sleet down in Dornoch in mid-May.
The weekend before I left, Jennifer and I hosted our family for dinner, enjoying their company without exception. Among them: grandson Steven, clearly a hiker-in-the-making as evident from this photo last summer when he was three.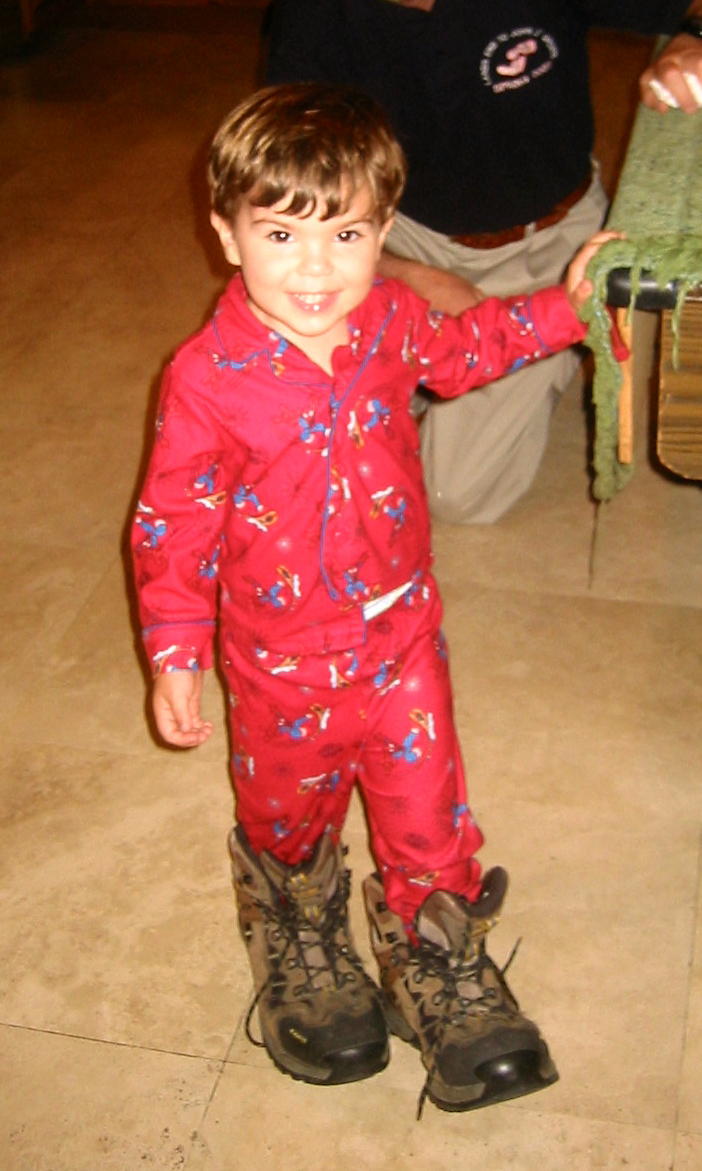 Packed and ready to go on the last weekend, I read The Tampa Tribune Sunday edition. That's a relaxing thing to do over a stiff coffee. Feeling nostalgia for home even before I'd left, I noted a couple of relevant adverts. Adverts are, of course, about all there is to note in an American Sunday paper.
The first advert may cause your mouth to water, as it did mine. Once In England, paying for meals in sterling, I knew I would miss

Sam Seltzer's

. I'm interested to hear what my British friends think of the price, which translates to £5.50. And the beef is pretty good, I assure you.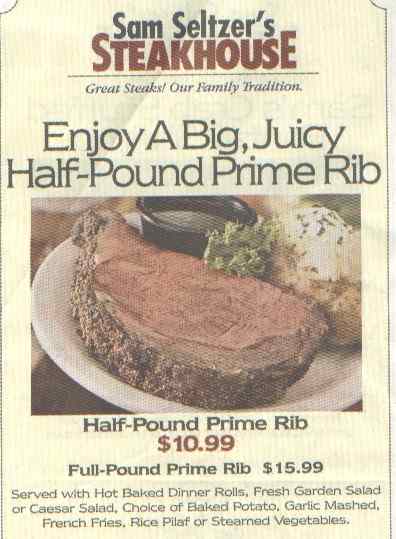 The second advert touched many, err, nerves. This product was widely advertised in print and on television right then. As a hiker, the foot picture immediately caught my attention. And, for hiking, wouldn't this product be just the ticket? Put one of these in each boot, or more precisely on the sole of each foot, and you're assured of no shoulder or neck pain, a strong heart and lungs, unimpaired knees, a bladder that will go the distance, and undiminished stamina.
Unfortunately, the engineer in me says this product is total balderdash. Note that the claims extend beyond general detoxification to an ability to obtain specified health benefits from detoxing specific areas of the foot, and differently left from right. (We're asked to overlook the fact that the pad does not actually extend to all the foot areas to which the claimed benefits are related.) The lawyer in me just loves the claims, such as "jump starts metabolism" which imply so much while they mean so little, making them probably immune from a succesful legal challenge. The sociologist in me reckons that people who buy this product based on just the advert will also vote for any candidate with a mouth in this political season.
It's nice to know that our society always buys into what's important, and that there's something other than politics to entertain us in the papers.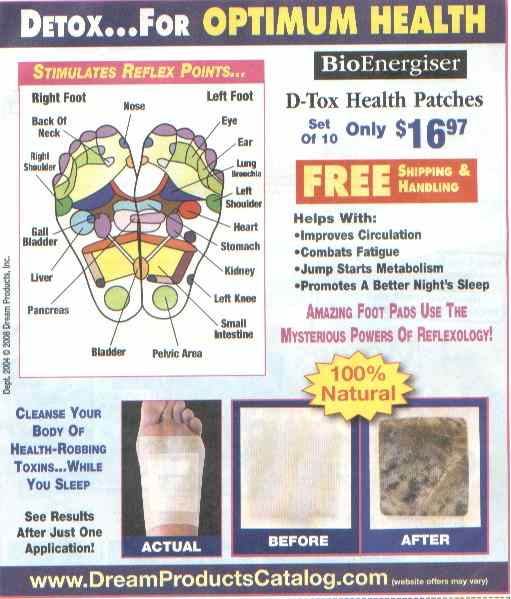 I flew from Tampa to Chicago for my connection there to Heathrow. But Chicago O'Hare became heavily fogged in soon after my Tampa flight arrived. Masses of flights were canceled - but somehow my London flight was just delayed. Across the Atlantic, on a full flight, I was blessed with a travel companion who made remarks like "You're throwing light on the subject" (when I switched on the reading light), and "Does that guy know you?" (when another passenger asked me what time it was).


We touched down two hours late, but I made good time to the Orange (mobile phone) store in Knightsbridge, which I had identified beforehand.
There, some kindly folks sold me an internet service for my mobile phone (using GPRS, for techie readers). But, like so many things computational, this didn't happen smoothly, and several hours later I was still waiting for a call to tell me that my account was now related to my sister's aunt's third cousin's home phone number, and thus active. Bless their hearts, these folks helped me with some shortcuts through their own system, because I don't actually have a sister, and her third cousin doesn't own a phone, whose number I've forgotten anyway. But, as I say, it all took a lot of time.
I had planned to get a day's sleep between my early morning flight arrival and the 11 pm departure of my bus from London to Inverness.
But, with the late flight and the prolonged Internet access arrangements, it was 6 pm when I might have gone looking for
accommodation. So, instead, I went straight from the Knightsbridge store to Victoria Coach Station, where I had three things on my mind:
food, a toilet visit, and a leisurely recharge of my mobile phone so that I could talk to Jennifer in the evening.
The food need was easily solved enroute at a rather posh Waitrose supermarket near Cadogan Square. But I left myself to the untender
mercies of Victoria Coach Station for the phone recharge and the toilet.
Well it turned out that I had sorely misplanned. There is not a single accessible power outlet at Victoria Coach Station. Just one wallplate cover was visible in the entire public concourse, with a sign to dissuade anyone brave enough to try to go behind it. Its welcoming message: "Recharging is stealing".
But the real drama occurred in stalls 2, 3 and 4 of the public toilets at the northern end of the coach station. (I have identified it precisely so you can do the same.) As I was peacefully and contentedly relieving myself of a day's coffee supply on the urinal wall, a greatly-agitated gentleman darted out of stall number 2, and breathlessly recruited me to follow the man whom, he said, would shortly try to make a run for it from stall 3. He, the former occupant of stall 2, was off to find the police! In the middle of his entreaties, just as I was hastily zipping up - which is not something to do hastily, I might add, but that is another story - the occupant of stall 4 also appeared. He was equally agitated, and wearing a very strange brown-and-white hat.
Seizing my opportunity for a graceful exit from what I thought was some sort of depravity, I quickly delegated my own duties to the fellow with the strange hat. And I can tell you that he wasn't at all reluctant to assume the reins. Indeed, at such time as stall number 3 occupant emerged and made a run for it, number 4 said he would stick with him like a fly on s---, while number 2 brought all the talents of Scotland Yard to the case.
And so I turned my back on the unfolding drama - and, just outside the public toilet (at the north end of the coach station, remember), I ran
right into Inspector Plod of Scotland or some other Yard taking a report from the still-excited number 2.
This is what I discovered. Stall occupant 3, a man who evidently likes to be in the middle of things, and in this case in the middle toilet, had chosen this stall so that he could simultaneously throw wadges of precision-guided feces-in-toilet-paper sandwiches over the partitions. Upon their arrival, these sandwiches turned into hats or other adornments. And it seemed there had been more than a few of them. The floor as well as occupants 2 and 4 were all beneficiaries.
Doubtless stall occupant 3 had studied under the great Chinese master of this sport, the unkindly-named Mr. Oo Flung Dung, though I have no reason to assign any ethnic background to him, since I never actually saw him.
All I can usefully add is that I could hear muffled giggles from behind the door of stall 3 as I departed, and that I was able to escape being involved in the police activity outside. Unless, that is, I get arrested for somehow charging my mobile phone at Victoria Coach Station - at a spot I will keep to myself, thank you very much, because you will surely reveal your source if I told you. But I assure you it is not in the northern toilets, and certainly not in stall 3.
And so I boarded the overnight bus to Inverness.
I stepped off the overnight bus to Inverness at 11.30 am, feeling fresher than I'd expected after two nights of traveling.
Next I needed to find the

Kinloch Guest Lodge

. My map told me where it most likely was, but I thought I'd better check before I climbed what is called Market Brae Steps, a steep set of such steps running up a hillside.
"Where," I asked a young lady, "is Ardconnel Road? Up there?" I asked pointing.
She pondered on this in a flustered sort of way, before answering, "Yes, I'm sure it is. But - maybe not."
We laughed at the imprecision of her answer. So, motioning at my backpack, I said: "I've got just one other question."
"Yes," she answered, receptively.
"Will you carry my backpack up the steps?"
She had no doubt at all what her answer to this question was, but laughed boisterously.
Thus encouraged, I spent the next ten minutes at the foot of Market Brae Steps, asking the same questions, and getting similar responses, from several others.
Finally, a battleaxe of a not-so-young lady assured me positively that Ardconnel

Street

was not only at the top of the steps, but that

Kinloch Guest Lodge

was the fifth house on the left once at the top, which for good measure was southwest of the aforementioned top.
For most people this would have been enough. But not for Hobson the Hiker.
"Thank you," I said. "And I just have one other question."
The battleaxe raised her eyebrows in a way that should have warned me not to ask it.
"Would you mind carrying my backpack up the steps?" I asked.
At this she bristled in a manner that would have honored even a brand-new Scottish bogbrush. I didn't wait for an answer. Hobson hastily said goodbye, and found he could climb Market Brae Steps pretty quickly when he wanted to.


Finding the

Kinloch Lodge Guest House

just where she said it was, I was asleep by 2 pm, woke briefly for an evening snack, and then slept again.
.

Inverness to John o' Groats
In the morning I was in a great frame of mind. At the Kinloch, I had slept for eleven hours, taken an extraordinarily long time showering under a generous hot water supply, and then gone down for a "full Scottish" as a good breakfast in these parts is known. Today's touch: a potato scone.
Next I strolled to the bus station for my ride to Wick, a major town near John o' Groats.
Time has been kind to the Inverness Bus Station on Farraline Road. Though of 70s design, the ticket counter has a Scandinavian look due to its curved light-wood facade. More recently, purple halogen spotlights have made it even avant-garde. A wide-screen flat panel display indicates the bus departures, to such places as Edinburgh, Thurso, Dornoch, Aberdeen and Buckie. The

Ashers Café's

name is displayed in fancily-scripted neon lights, and sells Tattie Pie to folks like me, well-dressed in a grungy way, traveling in the Highlands, and traveling for free if they are over 60 years and Scottish residents. So Scots will now willingly bus a hundred-odd miles from Wick to Inverness for some big-city shopping on a Saturday. Perhaps just a little incongruous in the bus station is a potted bamboo tree.
Outside the bus station is

Munchee's Fish and Chips

shop, its name painted in yellow right on the brick wall, against a red backdrop. In other towns, this would look neat as "retro", while in this part of Inverness, it also looks neat because "retro" is now.
The little bus from Inverness to Wick takes three hours, and runs up the A9, much of which I hiked last May, and which I'll hike in reverse direction for the coming week. It was a not-so-gentle reminder of what lay ahead, because I could easily relate to what hiking this road really meant. I had crossed Cromarty Firth Bridge in an icy gale, fearing that I'd be blown over the railing in my backpack-topheaviness. The bus crossed the bridge now in a couple of easy minutes of fine weather. But then I gazed upon a hundred miles of narrow roads, almost devoid of any footpath, and I could easily envisage hiking with a constant monitoring of traffic, and moving out of its way by climbing on to the muddy grass verge where the plastic road markers had often been victims of cars themselves.
Approaching Tain, I struck up a conversation with a Scot who told me a little about the history of the place. But then he went on a little too long, and ended by pronouncing proudly that the place was several hundred years old by the time that Columbus discovered America. So I asked him what his favorite Tain pub was, and he told me of the

Royal Hotel

. To this I replied:
"I prefer the

St. Duthus Hotel

."
Thunderstruck, he replied, "Where's that?"